Weekly Schedule:
Wednesday – Water testing in community weekly
Thursday – Garbage pick-up in community weekly (starting at 6:00 a.m.)
O&M has a long list of 'to do's in the community!
Annual jobs:
cutting grass around the lagoons and the graveyard
cleaning water lines
repairing broken lines
inspecting and changing oil and backup generators for sewer and water
minor jobs
Building maintenance is done on all our buildings such as the Multiplex, Band Office, and Daycare. We handle all small engine repair of our own equipment.
We clean, repair, flush around the fire hydrants in the community

Set up and take down the culture camp, set-up for different events such as Indigenous People's Day in June.

Housing; assist with delivering, unloading supplies for renovations. We do minor inspections on a weekly basis, minor repairs on a weekly basis. Remove old appliances and tire pick up

Winter prep – maintaining well and pump houses

Snowplowing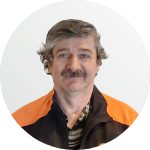 Mickey Phillips
Operations and Maintenance Manager
Hadih! My name is Mickey Phillips, and I moved to Saik'uz almost 30 years ago from Nadzko in the Quesnel area—where I met my wife, Peggy Johnny. I originally worked for Saik'uz First Nation in 1989 as a laborer and, since moving to Vanderhoof, I have been initial attack for forestry, then for Canfor, and after that I was in silviculture until I became a laborer here in the community and now the O&M Manager. I love working for the Nation. They treat me like family and I hope to continue to work for the band for many more years to come.